This past weekend we packed up the car and traveled to galveston for the weekend. Carl's sweet parents rented a beach house for the weekend. We had a blast and tripp LOVED the beach! He especially enjoyed getting dirty, running into the waves, and of course playing with AND eating the sand! It was tripp's very first trip to the beach and he enjoyed it very much! We did end up having to cut our trip a little short and leave late saturday night because tripp did not sleep well at all friday night and woke everybody up! He has not traveled very much and is not used to sleeping away from home. Guess he is a "home body" like his mom and dad;) Nonetheless we had a great time with carl's family and managed to relax a little despite our energetic little man! Thanks to Grammy and coach for a fantastic weekend!! Below are some pictures from the weekend...just a warning, there are quite a few:)
so sweet!
notice the muddy sand on his chin...yep he just ate some!
my handsome boys
mr. mischief!
tripp and cousin kate
family shot (tucker is in there too;))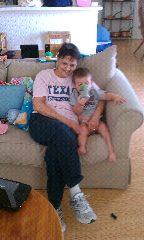 We had a great weekend and have another fun weekend coming up. We are going to san antonio for a friend's wedding and have decided to make a weekend out of it. Luckily my mom will be there to help with tripp. Hopefully he will sleep better! We will see!!
Thanks for stopping by! Hope all have a happy and blessed week!!
Love and Blessings,
Traci, tripp and baby tucker:)