We had a super fun Easter weekend! To top it off Carl had off half a day Friday so we got lots of quality time with daddy:) Carl even said to me last night, now I can see why you're always so exhausted! :) we spent a lot of time outside, which the boys love! Friday night we had dinner with Carl's parents and aunt janelle. Saturday we played around, put the boys down for nap, them headed over to my dad's for an Easter celebration and some fun in the sun. Tripp and Carl went swimming and boy did tripp love it! Our little boy has no fear and jumped right in and kept sinking his own head under water! Definitely will be looking into swimming lessons ASAP!
Easter Sunday we spent with both our families and some good friends out on good ol' Schindewolf lane. We had lots of yummy food and lots of fun. It was a beautiful day and another reminder of how blessed we are. The kids ran around and played outside and we even had a fun Easter egg hunt. Tripp wasn't too interested in the hunt, only eating the candy inside the eggs;) can't wait for tucker bug to join the fun next year...this year he took a nice long nap while the festivities were taking place:) thanks to all who came out and brought all kinds of goodies. And a special thanks to yaya and Grammy who provided the yummy ham, brisket and most of the sides too:) I love our family traditions...I even made a bunny cake, a tradition in my family that I'm carrying on for my boys. Enjoy the few pictures I took below. I got so carried away in the day I forgot to take very many pictures:(
yaya, keith and tucker
easter bunny came! (still need to get tucker an easter bucket!)
yaya and three of her boys
tucker and mommy at chief's
yaya, jake, amelia and tripp
keith, blake and jake realxing in coach's hammock
tripp so happy in the pool
the kiddos sneakin' some drinks
tripp lining up his cars
riding the 4 wheeler with mommy
sweet tucker bug
tripp checking out his easter goodies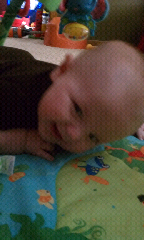 tucker rolled all the way over!!
so sweet
hanging outside with daddy and brother
tripp watching daddy climb the tree
loves his exersaucer
monkey see, monkey do
my sweet boys
sweet amelia egg hunting
tripp looking in his basket
checking out his goodies:)



Thanks for stopping by! Hope all had a wonderfully blessed easter! Will update again soon:)

Love and blessings,
Traci